Do you know how to make your income last through retirement?
After a long career, you've managed to build a cushion of financial safety. The last thing you want during retirement is to deplete the money you've worked so hard to save because of unlucky timing or poor investment selections.
In this eBook, we'll share tools and insights to help you plan for the next stage of your financial life. With a thoughtful distribution planning strategy, you can have the financial stability to enjoy the retirement you always envisioned.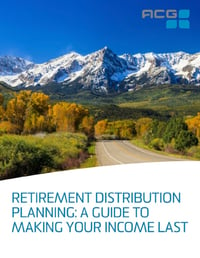 Inside this eBook, we cover:
Why Distribution Planning Matters
Developing a Withdrawal Strategy
Defining Sequence of Returns
Investing for the Distribution Phase
Common Misconceptions About Investing for Retirement
To download this eBook, please fill out the form to receive a PDF download.